What do you envision when you think of chili? A hearty bowl of a tomato, meat and possibly bean stew, seasoned with chili and spices, with crackers on the side? Chili means different things, depending on where you are. This heart healthy Cincinnati style vegetarian chili is delicious and easy to make. What really intrigued me was the addition of unsweetened cocoa to the sauce. Mmmmm. Chocolate! But in chili? Yes, you definitely have to try this recipe!

I was looking for inspiration for my next meatless meal when I came across a recipe for chili using lentils. I usually think of red, pink or kidney beans in chili. This recipe also includes serving the chili over spaghetti. OK. I've made a dish before with lentils served over pasta, but not as a chili.
What is Cincinnati Chili?
Cincinnati chili is a meat sauce of chili and spices served over spaghetti. In this recipe, the sauce is made with lentils instead of meat.
Chili over spaghetti is called the 2-way. A 3-way is spaghetti, chili and cheese. A 4-way would include onions or beans.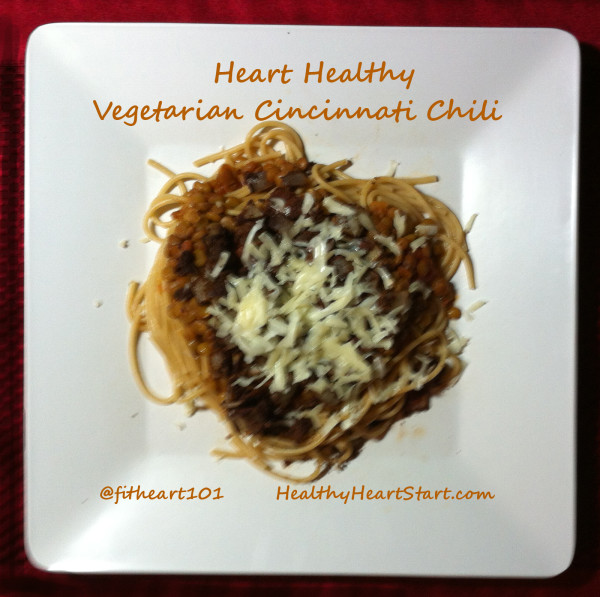 Recipe
Recipe inspired by: http://ohmyveggies.com/recipe-vegan-cincinnati-chili/
Ingredients
This recipe makes 4 servings
2 teaspoons extra virgin olive oil
1 large yellow onion, chopped
1 tablespoon no salt added chili powder
1/4 teaspoon allspice
1 teaspoon ground cumin
1/4 teaspoon ground cloves
1 tablespoon unsweetened cocoa
1 bay leaf
1 teaspoon cinnamon
1 teaspoon paprika
1 tablespoon apple cider vinegar
3 cups low sodium vegetable broth
1 (8 ounce) can low sodium tomato sauce
1 (8 ounce) package brown lentils, rinsed
1 (8 ounce) box spaghetti, cooked
Garnish: chopped onion, cheese, and/or crackers
Directions
Saute the onions in olive oil in a large pot over medium-high heat until they are soft and translucent.
This should only take about 3 minutes.
Stir in all of your dry spices, making sure to coat the onions. As you lightly toast the seasoning for about 1 minute, enjoy the aroma of the cocoa.
Add your tomato sauce, broth, vinegar and lentils to the pot and stir. Bring it to a boil, then let it simmer for about 30 minutes, or until the lentils are tender. Be sure to stir frequently.
To serve, pour the sauce over your cooked spaghetti. Top with your garnishes : cheese, onions, or crackers and enjoy.
The cheese and crackers are sources of sodium to look out for if you are following a low sodium diet. I used 1/2 serving of a sharp cheddar cheese which I grated and sprinkled over my chili. If you want to make this vegan, you can eliminate the cheese or use a vegan cheese. I also did not have the crackers. For a heart healthy spaghetti, I used whole wheat.
How would do YOU make this chili? I'm thinking that serving it over spaghetti squash might be great.
Here's to your health 🙂
All the Best,


PS: For more recipes and heart healthy tips, sign up below or join the conversation on