Times of extreme stress can throw you off and affect your health. When someone close to you dies, you can feel like your heart was ripped right out of your chest.
The thought of maintaining your heart healthy diet, or any part of your normal activities can go right out of the window.
That's where I've been lately. But as I'm starting to reconnect with others, I'd like to share some tips for taking care of yourself when you just don't feel you can.
I recently lost my mom. I don't really feel like being sociable. Sometimes I feel flat-out sick. Other times I want to sit and mindlessly watch a movie or read.
I don't feel like watching what I eat. In fact, I have eaten some of my meals without concern for whether they will take me way out of my eating guidelines. At times  I have eaten at restaurants, and did not even try to find anything on the menu that would come near my low sodium range. I just ordered, and ate. 😐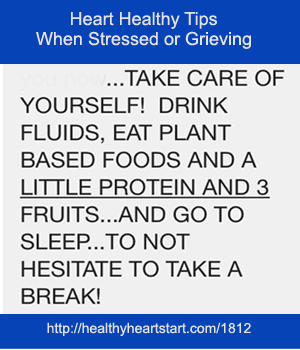 You Can Take Care of Yourself
A Facebook friend gave me some words of support in a private message. You can  see part of what she said in the image to the left.
Even though we tend to know what we should do, hearing (or reading) specific suggestions and tips while deep in stress can help us keep them in mind.
Her advice is right in line with sound,  heart healthy habits. Here are some things you can do to take care of yourself throughout your period of grief.
Start with your mind.
Have a deep resolve that "I will get through this, no matter what I feel like at any given moment."  This is quite different from saying "this too shall pass," because it won't just pass. These words have been said to me. It doesn't feel good. I do know the good and supportive intentions of the people who said it, and choose to wrap myself in that positive energy.
You're very sensitive during this time. People who mean well will say things that just don't hit you the right way. If you can look past the statement to see the good intention, then you can receive the comfort and ward off added distress. I'm definitely not saying it's easy. But it is a bit of a mind shift that helps me get through it.
Taking care of yourself and your heart's health then, starts  with acknowledging your loss,  and allowing yourself to go through it while holding on to faith that you ultimately can get through this. In my case, my faith is not in myself but in God.
Mind what you eat.
At least as much as you can. If you don't feel like eating at all, and sometimes I don't, find small things that you can eat, like a snack of a granola type bar or a piece of fruit. Eat  mostly plant-based foods like vegetables, fruit, beans, and  whole grains, a bit at a time, just to get you through.Try to have lean protein and drink plenty of fluids.
Sometimes people want to give you food or cook for you as support and comfort.  If the food is something that would take you far away from what you would normally eat,  it's OK to try a very small portion, if you feel like eating it at all.
Don't beat yourself up. It's OK to go off track a bit unless you are on a very restricted diet. If that is the case, then do the best you can. Make sure to check in with your doctor if you experience any changes in your health.
This Edible Arrangements Basket was a really comforting and heart healthy sympathy gift that I received,  made of fresh fruit with kale.



The fruit came on skewers. I put several skewers of fruit and kale on my plate as part of my breakfast in the mornings. It was delicious and comforting. I felt like I was eating something that was healthy, even if the rest of my day was challenging.
As for taking a break….
I've struggled to get anything done lately. From time to time I get a message from family or friends to see how I'm doing. My neighbors say they don't see me around.
I'm taking that much-needed break. I listen to a lot of audio books to help me relax or go to sleep. My point here is, in times of deep stress, you need to take time to take care of you, to give yourself a break, to get some rest so that you can begin to heal.
Keep your heart healthy guidelines at hand.
It certainly helps to have basic guidelines about what a heart healthy lifestyle is doesn't it? Whether you're just beginning, or you already lead a healthy life, this heart healthy lifestyle guide is packed with actionable tips that you can use immediately
, and at your own pace.
Here's to your health 🙂



aka @FitHeart101
 PS: If you're grieving or in distress just love yourself, take time to heal, and do what you can, a bit at a time.