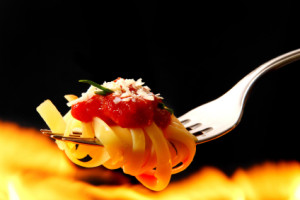 Recently my husband and I had the pleasure of having dinner out with a friend, Bob.* He is senior enough to be my parent yet probably had more energy and stamina than I do. For a man of about 80, he talked about the people he knew who could barely get around, and then said that he could walk from where we were, (Lower Manhattan,) to the Bronx! The last time I thought I could do something like that I was probably in high school.



Then he revealed that he'd had quintuple bypass surgery a few years ago, with 90% blockage of his arteries and high cholesterol. Bob told us that he is disciplined with his eating. Wow! Here was someone who was still following his eating plan, especially while dining in a restaurant… There  I was enjoying an  orecchiette with sausage dish while he had a delicious looking chicken cutlet with pasta that wasn't even listed on the menu! Bob is  eating a low carb diet, with salmon about 3 times a week, no red meat, dairy or cheese, and very little carbohydrates. He eats foods like pasta only once in a while.
So how can you stick with your own heart healthy plan while eating out in restaurants? Here are a few ideas you can use.

Ask for what you want.
Bob knew that chicken cutlet was the type of cuisine this restaurant would have. He asked for what he wanted, even though it was not listed on the menu that evening.
Eat slowly.
It takes about 15 minutes for your brain to signal that you are full. By eating slowly, you cut down on eating more than you really need. You can take home what you didn't eat and have it for another time.
Savor the food.
Enjoy what you are eating. Take your time and really taste your food. As you do, you build up your storehouse of  positive eating experiences.
Let your table companions know why you are eating slow.
Tell them that it is good for your health. If you are all having a leisurely meal in good company, they will probably appreciate the time spent anyway. I know we did.
* Bob is not his real name, to protect his privacy.
 What helps you stay with your eating plan when you go out to eat?
All the Best,