I've been buying shoes labelled "walking shoes" off of the shelf from sports and shoe stores for years. I've even bought them online. I generally "live in my sneakers" as I like to say. For years I thought I was getting the right shoes for my feet.
That changed when I really started walking with a group of friends for heart healthy fitness. It wasn't the fact that I started off with walking 4 miles that got to me. I've walked that distance, although at a leisurely pace. When I changed to fitness walking, I ended up injuring my foot. When you know how to choose the best shoe for your feet, you'll avoid injury and recover more quickly. This is a lesson I learned the hard way. What should you avoid? How do you choose a good shoe for walking?
Make sure your shoes are in good condition each time you walk.
Since I had been wearing the shoes for my every day walking, the shoes were a little worn. Only when my foot started feeling like someone had pounded a stake through it did I notice that I had worn the shoe down drastically in only a couple of weeks of fitness walking.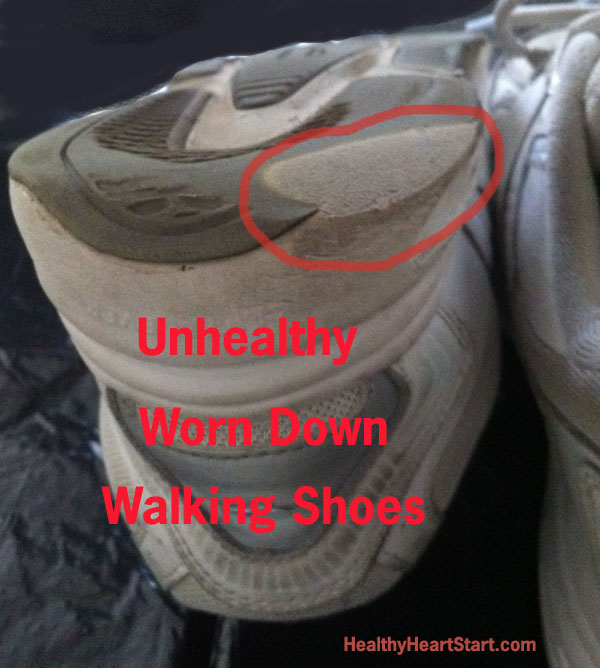 Wearing the wrong shoes for your feet, or wearing shoes in bad condition can lead to injury. My injured foot took me out of the walking group and to a podiatrist. I have to tell you, I had not been paying attention to my shoes. I had a couple of pair so I could change up and not wear one pair to death. But that has been for casual use and not for exercise. Even so, wearing unhealthy worn down shoes is not good, no matter what type of walking you do.
I took the shoes to the podiatrist, who turned them upside down and said I definitely need a new pair. He also took the insole out, showed me the unlined inside of the shoes and said they weren't really that good. I've always needed shoes with good supports in them anyway. So I set out to find a better pair of shoes.
Get your feet and your walk evaluated.
A competitive athlete, who has a different type of shoe for each of his fitness activities, suggested that I go to a running store, and have them evaluate my walk and feet to determine the best shoes for me. A running store? I decided to give it a try.
I walked into a store and stated that I walk for fitness, and want to get fitted for a good walking shoe. Easy enough. The associate measured both of my feet, and watched me walk with socks on and without shoes. When you shop for shoes, wear the type of socks you would normally wear with that type of shoe.
This test was similar to the walking test I did for the podiatrist. They evaluate your walk to see how much, if any, motion control problems you have, like when your feet tend to roll inward or outward, and how your feet strike the floor. They can then determine which type of shoes may work best for you. So far so good.
The associate brought me a pair of Brooks Adrenaline Gts 16 .They felt comfortable and I loved the cushion. The associate suggested I test walk them on the treadmill. It was not a comfortable walk for me, since I don't use treadmills. To fairly test the shoes, I had to just walk around the store so I could see how the shoes really felt in a way more natural to me.
As I walked I noticed a slight bit of sliding in the heel. The associate assured me that it was OK, that if my foot swells, I don't want to get blisters.
He also brought me a different brand of shoe for me to try. As soon as I put them on, I felt the difference. No cushion. Not nearly as comfortable. No contest. I'll take the Brooks please!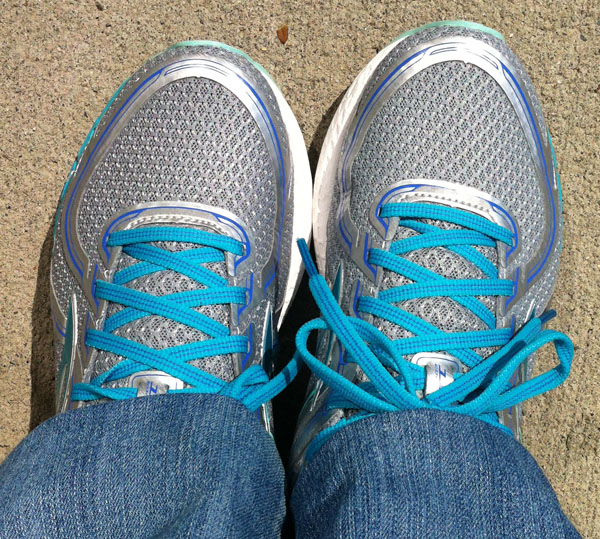 Just to be sure, I asked the associate are these good shoes for fitness walking? I had to consider that I was in a running store. And this shoe is a running shoe. He assured me that this was an appropriate shoe.
It's good to break your shoes in before going full blast.
I've been casually walking with my new shoes, to make sure that they still feel good. This also helps the shoes begin to shape to my feet. Once you get evaluated, wear your shoes, and find that they give you the support and fit that you need, you will know what Brand and style meets your needs. You can then conveniently order your next pair of shoes online. That is what I will do after I further test these shoes over time in fitness walking, and see that they wear well and are a good fit.
The Brooks Adrenaline Gts 16
is a stability shoe: it has flexibility, good support and durability.
It is good for people who don't have severe motion control problems: if your feet don't severely roll in or out.
Along with black or white, they come in a variety of cool colors and patterns to suit your sense of style and mood.
Here's to your health 🙂



aka @FitHeart101